TRIAL ATTORNEY
Lourdes De Armas
About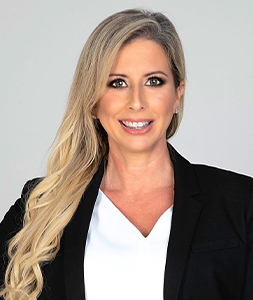 Lourdes De Armas advocates for equality in and out of the courtroom and coined the motto "There are no women trial attorneys. We are trial attorneys that happen to be women."
She has dedicated her trial practice to representing plaintiffs in catastrophic personal injury, premises liability, sexual abuse, and wrongful death cases.
Lourdes is a member of the Los Angeles chapter of the American Board of Trial Advocates ("ABOTA"), where she serves on the Executive Committee and is Chair of the Membership Committee. Lourdes is one of the founding members of The League of Women Trial Attorneys and is on the President's Advisory Committee on Women in the Legal Profession for the Los Angeles County Bar Association.
As nominee for Consumer Attorney Assoc. of Los Angeles Trial Lawyer of the Year for 2019, Lourdes had three verdicts in the Top 100 Verdicts for the State of the California. In 2020, Lourdes had a verdict in the Top 50 Verdicts for the State of the California.
Lourdes' passion is advocating for her clients in the courtroom. Just prior to Covid, Lourdes had multiple trials resulting in several 7 figure jury verdicts.  Most notably, Lourdes obtained back-to-back jury verdicts that were 4x the defendant's insurance policy with minimal offers going into trial.
Throughout her career, Lourdes represented clients in a variety of cases from contractual disputes, class actions, amusement park injury, wrongful death litigation, catastrophic personal injury, insurance bad faith, and educational fraud. Lourdes represented over 800 inmates of the California Department of Corrections in cases involving inadequate medical care and treatment. She also represented over 22 named plaintiffs and a certified class of former students alleging that the post-secondary school violated the California's Education Code and consumer protection laws by falsely claiming that school was accredited. The case culminated in a multi-million-dollar settlement. Lourdes also represented a client in an amusement park injury case that resulted in a design change in the ride. The case resulted in a confidential settlement.
Lourdes' work does not end at the courtroom steps. She proudly fights to bring awareness and hopefully change to the issue of sexual assault or harassment by empowering women. She is one of the founding members of the Beverly Hills Bar Association's Committee on Empowering Women and serves as an executive member. The Committee was awarded the 2018 Board of Governors Award for the BHBA for their dedication to supporting the professional and personal growth of women through networking, educational programs and mentorship.
Lourdes' family is originally from Cuba and she is fluent in Spanish.
Honors & Awards
Best Lawyer of America: Personal Injury Litigation – Plaintiffs 2022
California Super Lawyer: 2018-2022
BHBA Board of Governors Award: 2018-19
National Trial Lawyers: Top 100: 2018-22
Super Lawyers Rising Star: 2007-2011
Bar Membership
Affiliations