TRIAL ATTORNEY
Patrick Gunning
About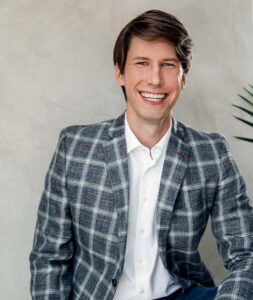 Patrick Gunning is a trial attorney who exclusively represents victims in catastrophic injury and wrongful death cases.  With a razor-sharp intellect and keen eye for the decisive details of every case, Patrick thrives in high-stakes trials and excels in finding creative ways to win.
As a result, Patrick has recovered more than $250 million for clients and consistently been on the front lines of cases with large verdicts and impactful settlements, including:
A $39.5 million settlement for a college student who suffered a brain injury due to heat stroke in a jogging class, which also required the CSU system to protect student safety in the future (Freeman v. California State University)
A $17 million verdict for a family, including a man who lost his wife and two children as a result of a U.S. Marine Corps fighter jet crashing into their home (Yoon v. U.S.)
A $15.3 million verdict for a bus passenger who suffered spine injuries when the driver negligently drove too fast over a speed bump and her young daughter who suffered emotional distress (Francisco v. AC Transit)
A $12 million settlement for a fatal fall at a construction site
A $10.5 million settlement for an apartment complex fire that occurred due to large banks' failure to protect tenants of properties that they foreclosed on during the mortgage crisis
A $6.3 million verdict for a pedestrian struck in a crosswalk who suffered leg injuries and permanent scarring (Enriquez v. Gonzalez Travel & Tours)
A confidential settlement in the case that created landmark California Supreme Court precedent establishing that colleges and universities have a duty to protect students from known dangers in the classroom (Rosen v. The Regents of the University of California)
For this work, Patrick has been consistently recognized as a Rising Star by Super Lawyers from 2013 to the present.  Only 2.5% of the lawyers in California are selected to receive this honor.  He was included in the "Up-and-Coming 100" list of the elite Rising Stars for Southern California in both 2020 and 2021.  In 2020, he was a finalist for the Consumer Attorneys of California (CAOC) Consumer Attorney of the Year.
Born and raised in rural Washington, Patrick graduated magna cum laude from Gonzaga University and received his law degree from UCLA School of Law, which he attended on a full merit scholarship.
Outside of law, Patrick is also an accomplished musician, playing folk and traditional music on instruments including guitar, fiddle, mandolin and cittern.  This love of music has taken him on many adventures and to stages, festivals, and gatherings around the world.
When not immersed in law or music, Patrick can be found enjoying woodworking and construction projects.  He brings this background – the practicality and discipline of a craftsman, and the creativity and improvisation of an artist – to every case and cause.
Patrick is licensed in the states of California, Washington, and Oregon. 
Bar Membership
California, Washington, and Oregon