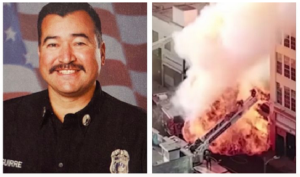 With accusations of hazardous activity, premise liability, and negligence, Victor Aguirre and his wife, Claudia, filed suit Wednesday against property owner Steve Sungho Lee and his various companies as well as the operators of Green Buddha and Smoke Tokes, the report says.
A criminal investigation saw them charged with more than 300 criminal counts.
The lawsuit claims Aguirre suffered catastrophic injuries in the explosion. The burns resulted in him having to have each of his fingers partially amputated, and he's undergone 25 surgeries since the blast, the report says. A 20-year veteran of the department and father of two, Aguirre, the suit alleges, has been permanently disfigured, disabled, and left with a lifetime of pain and suffering.
The suit accuses the defendants of violating the law, storing large quantities of hazardous materials in an illegal and unsafe manner, maintaining them in an ultrahazardous condition, and negligently summoning Aguirre and other firefighters to the scene, according to the report.
A Fire Department report determined that the excessive quantity of nitrous oxide and butane containers inside the vape shop fueled the fire, which damaged several other properties. The report also noted that the LAFD failed to inspect the building for at least a year before the accident. Fire officials have acknowledged that an inspection probably would have resulted in the seizure of many of the materials that fed the explosion, the report says.